Update: The book launch which took place on the 30th of April was a great success. Below is a link to the Greek Herald article which was published following the event:
Professor Tamis' book on Cretan hero Ioannis Kouromichelakis launched in Melbourne – Greek Herald
On Sunday, 30th April 2023, at 4.00 pm, a book launch was held at Alphington Grammar of the book authored by Prof. Anastasios M. Tamis, "Filius Patriae: Lieutenant Ioannis Kouromichelakis". The publication is a historical narrative that depicts the story of an ardent Cretan patriot, Ioannis Kouromichelakis from Nippos, Apokoronas, who heroically fell at the mountainous region of Kale Groto, Asia Minor during the Sagarios Campaign in August 1921. The book has been commissioned by Christina and Constantinos Sarris. The event is a collaboration between the Cretan Federation of Australia and New Zealand, the Australian Institute of Macedonian Studies, the Greek Orthodox Community of Melbourne and Victoria, the Hellenic Australian Chambers of Commerce & Industry and Alphington Grammar School, under the auspices of the National Research Foundation "Eleftherios Venizelos", Chania.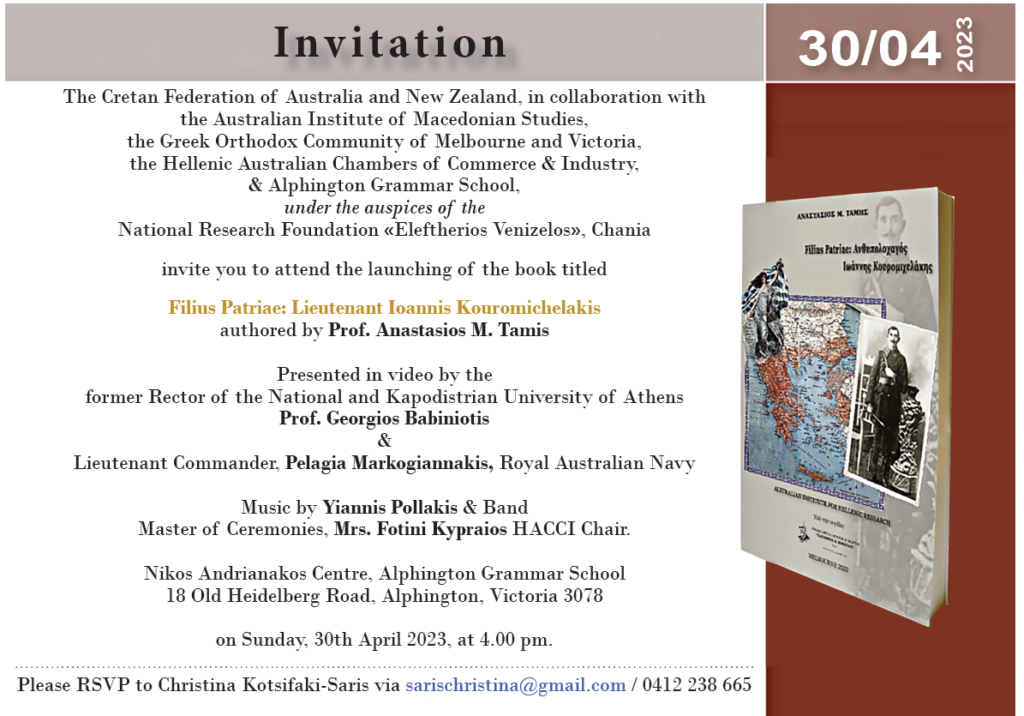 .